Manufacturing Execution System
What's a MES software?
MES (Manufacturing Execution System) software is an IT tool whose primary objective is to collect all production data in real time in order to optimize the monitoring and management of industrial processes.

Thanks to the centralization and orchestration of this data, the MES software will be able to deliver all relevant information (performance indicators, product traceability, compliance checks, monitoring of operating procedures, preventive maintenance, etc.) to enable the manufacturer to continuously optimize its production activities and be responsible to market developments.

Thanks to it, you obtain real-time production monitoring at different strategic points of the production line and therefore benefit from a global view of all the manufacturing processes in progress in the factory.
COOX : the Heart of Industry 4.0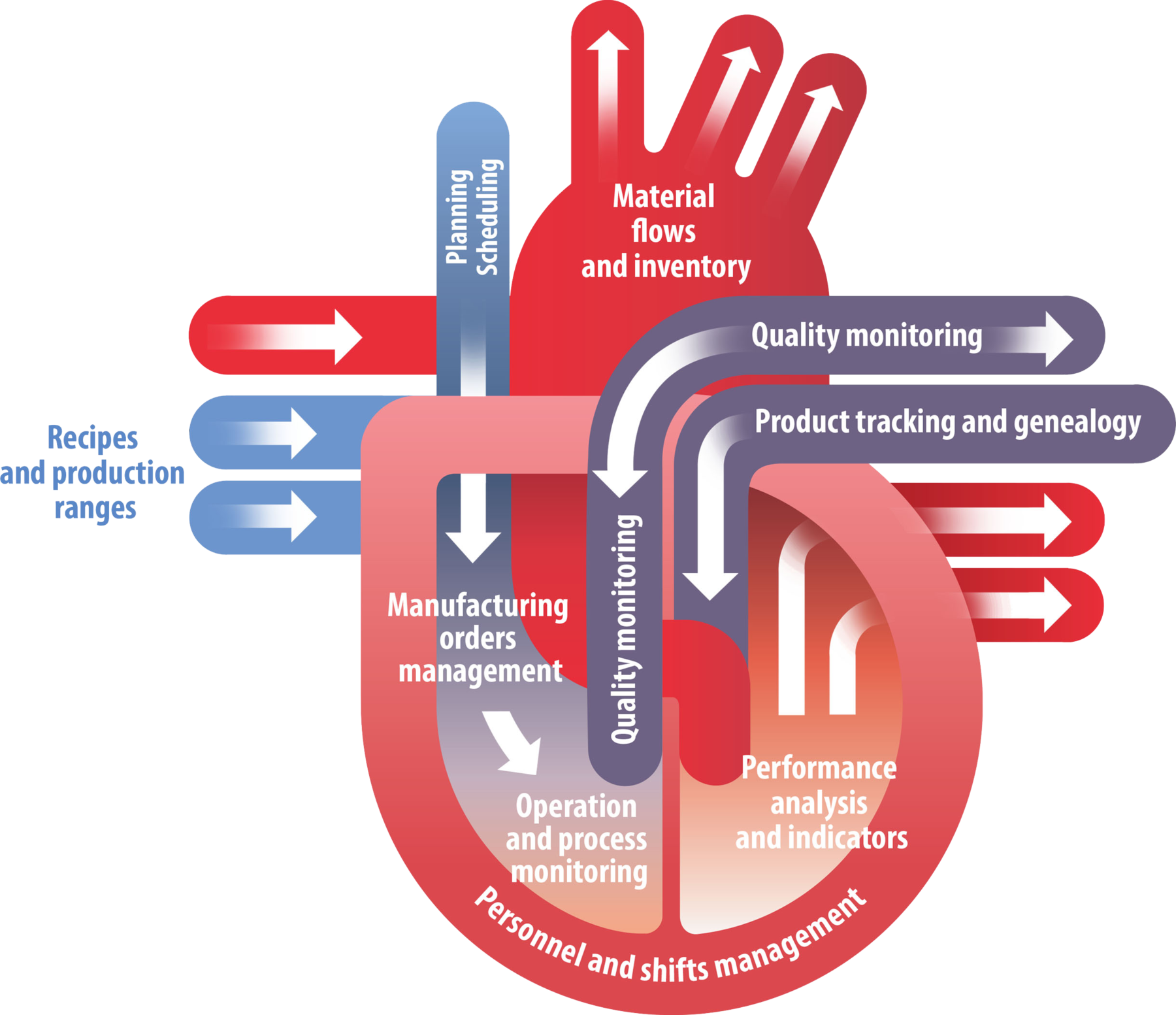 The COOX MES or MOM (Manufacturing Operations Management) software is the heart of the smart factory. It allows you to control and optimize all stages of production, from manufacturing orders from the ERP or your management system, to storage or shipping of products. Connected to your ERP, COOX (COllaborative Operation & eXecution) collects all your production data in real time and provides the manufacturer with overall production monitoring.
This data is then analysed to allow you to

continuously improve the performance of your installations, to react and anticipate breakdowns and hazards in your production instead of suffering them.
Thanks to its innovative modeling technology, the COOX MES software adapts to any type of industrial process and any installation configuration. The models (of equipment, operation, etc.) are reusable on one or more sites. They contribute to the speed of deployment and the robustness of applications.
Discover COOX 8.10 on video in 2 min
The version 8.10 of COOX MES software offers access to the latest innovations in terms of digitalization of operations with multimedia contextual help for operators. Of course, the fundamentals of COOX such as the systematic traceability of both manual and automatic operations and the modeling of installations are still required.
The functional improvements cover all areas and include in particular:
- New extention IPS (Improved Planning & Scheduling) of the MESbox PMT
- New extension LBM (Labor Management) of the MESbox PMT
- Genealogy graph functionality with intelligent algorithmic placement (MESbox MTG)
- New nomenclature model coupled with recipes
- Extension of container properties: parent-child relationship
- Extension inheritance capabilities on materials
- Many improvements of the MESbox QPI module
- New icon set across business components and graphical improvements
- ...
In short, you will have understood that the new COOX 8 version combines all the advantages to allow you to control your process with flexibility and precision and to benefit from optimum production monitoring in order to improve performance and productivity.
What issues does the COOX MES software respond to?
I would like more up-to-date information than what my ERP gives me
What is the actual production today? Does it correspond to the objectives?
What is the actual cost price of our products?
Are the figures transmitted in the reporting reliable?
From a quality service point of view
Are we compliant with the regulations?
How to improve our various quality indicators? Can we achieve zero waste?
Are we faithful to the customer's specifications?
Are all procedures followed?
From a production point of view
Is the production in line with the objectives?
How many people do i need to ensure the planned production?
Who would be available to launch an exceptional production?
If we order it, will we meet the deadlines for other orders?
From a maintenance point of view
What is the number and duration of my equipment failure?
How to reduce the most penalizing breakdowns?
I need to schedule a preventive maintenance shutdown, when is the best time to do it?
What is the intervention team on Wednesday?
From the operator's point of view
Am i behind in my production?
What must I do now?
Can i spend less time filling out worksheets?
I would like to be guided in delicate operations
From a purchasing point of view
What is the outstanding stock?
We broke up yesterday, what are the reasons?
Have we already started the last shipment ordered?
When should I place the order for the next production?
The supplier tells me a day late, is it annoying for us?