MES & SCADA software - Production monitoring - Supervision
Discovering the COOX offer
The COOX offer covers all the SCADA and Manufacturing Execution System (MES) features our productyion monitoring. Its structure is modular: you install only the SCADA and / or MES modules that you need or in addition to your existing. With the entire COOX offer, you benefit from an unequaled level of integration, implementation time and overall cost.
COOX combines great flexibility in process control and in systematic and exhaustive production traceability (process, material). The different modules of the COOX solution, called MESbox®, are based on the same platform (COOX® platform) and can be used independently or combined.
COOX MESbox offer: pre-packaged MES solution
The MESbox COOX offer is a pre-packaged offer of MES (real-time production monitoring) based on the COOX platform and its standard modules, implemented in a customizable preconfigured application. It is aimed more particularly at small and medium-sized enterprises, at OEMs but also at all companies which want a quick return on investment on their MES system.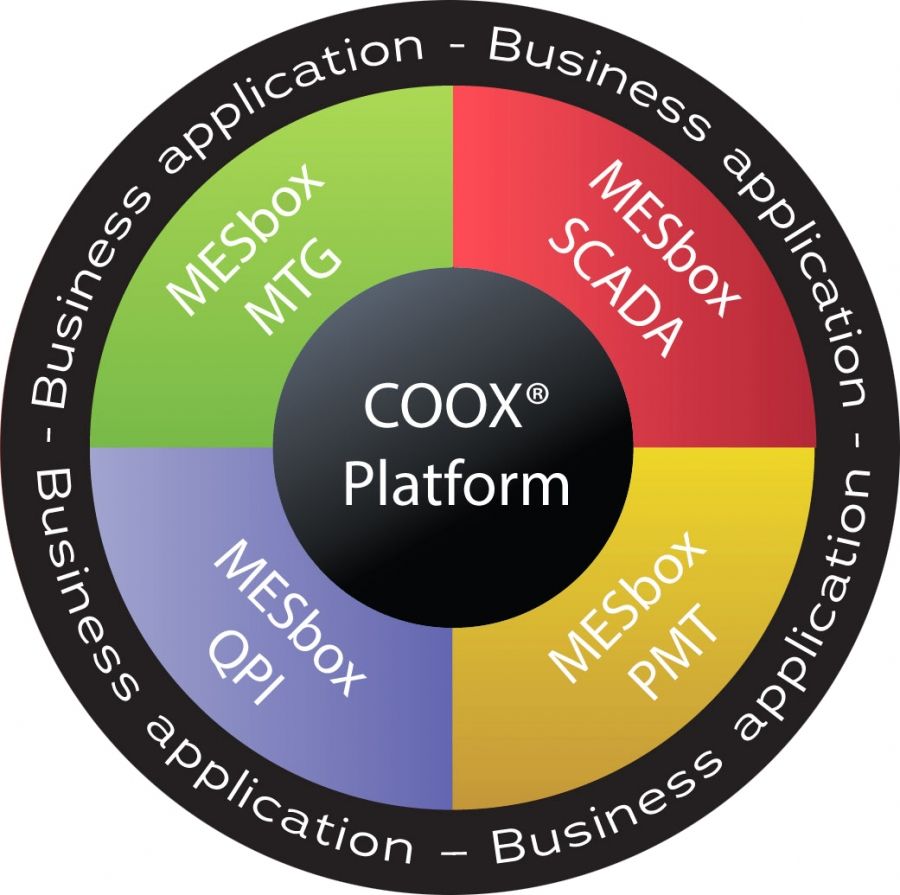 With COOX MESbox, the specifications' writing is no longer necessary. You just have to explore the list of ready-to-use functions, all customizable, delivered by the application and to check that they correspond to your essential needs. If your budget is more limited, choose the module or modules which xill bring you the fasted return on investment: their implementation will not exceed a few weeks and the gains obtained will quickly fund other functions.
Attractive, easy to implement, the COOX MESbox offer adapts to some machines as well as to a complete factory, and at any time you can transform your COOX MESbox application into a COOX MES Enterprise application to integrate new functions.
Standard functional MESbox modules capacities

COOX PLATFORM

Deployment and Intranet Access
Historical data base
User Management
Industrial Communication Drivers
Navigation and dynamic screens

SUPERVISION

Status and alarm log
Statistics (Pareto) of alarms
Recording of measurements and curves
Equipment Explorer

RECIPES MANAGEMENT

Definition / launch of recipes
Import and export
Launch and control of phases

PRODUCTION ORDERS MANAGEMENT

Planning production orders
Production orders monitoring
Manufacturing history

ADVANCED EXECUTION

Materials and products definition
Procedure and bill of operation definition
Procedures monitoring and execution
Quality control monitoring and execution
Suspensions and resumptions management
Step-by-step execution

MATERIALS AND PRODUCTS TRACKING

Materials and products definition
Receiving materials
Définition of physical flows
Workshop inventory and outstandings
Management of stacks and mixtures
Used equipment and location of batches
Genealogy of Raw materials and Products

QUALITY AND PERFORMANCE ANALYSIS

Real-time collection and pre-processing
Manual input / auto stops
Causes of stoppages and non-quality
Indicators: OEE, MTBF, MTTR...

INTRANET DIFFUSION AND REPORTING

Intranet distribution of tables and charts
Excel and PDF Reports
These modules meet the needs and requirements of your production by delivering the functionalities of a defined theme in a package ready to use. Expandable thanks to the COOX® builder, they adapt automatically to the evolution of your installation and to the process.
Based on web technologies, the MES COOX Software is presented as a high performance solution that is easy to implement, without any hardware or specific installation, accessible from any point of the company : whatever functionality you choose, the high level of integration guarantees you the simplicity of implementation and deployment, as well as a great homogeneity of operation.
COOX Concepts
The COOX software solution covers supervision, production orders launching, operations execution, recipes and bill of operations management, process traceability, product genealogy and material flow monitoring, quality control, as well as performance analysis and Manufacturing Intelligence.
The SCADA & MES COOX range is based on unique concepts.
With a large number of ready-to-use functions without developement, the MESbox modules are easily extensible by programming thanks to platform COOX 's open architecture. These business modules are complemented by long-term availability and archiving moules.
The COOX range can also be operated from tablets ad SmartPhones
Discover in this video the main functionalities of the various COOX modules.