Support contracts - Chameleon Club
Chameleon Club is an high level service for those who develop on our products.
The Club gives access to the technical Site, includes the systematic sending of the Updates of the products, makes you benefit from information seminars and gives access to the priority hotline (Monday to Friday, except bank holidays from 9 AM to 12 AM and 2 PM to 6 PM).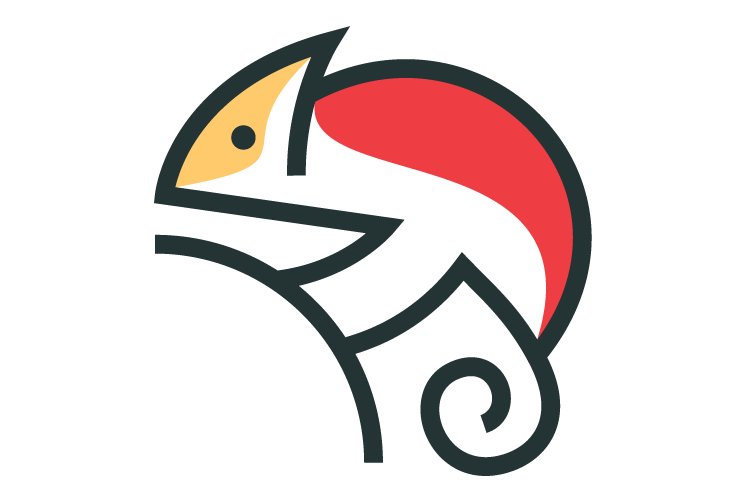 VAD (Value Added distributor) Chameleon Club
The "ORDCAM-VAD" program is reserved for a limited number of partners (IT consulting firms, integrators, consultants, distributors, consulting firms), technically involved in providing users with a high level of competence in the implementation of ORDINAL Software solutions :

Priority hotline service, access to advanced technical support on our website (forum, FAQs, downloads...), free software updates, free participation to regular training seminars when releasing new versions, supply of documentation, commercial supports, and "partner ORDINAL Software" logos...
Different formulas are available, you want more information ?
ORDINAL Software Maintenance contract (for end user)
The various maintenance solutions proposed are intended for the end users of ORDINAL Software products. They make it possible de maintain the runtime fleet and, if necessary, by means of an annual subscription formula.
GOLD Cameleon Contract : allows to maintain operating licenses (hardware or software key), whatever the version, in operating licenses of current version of the same level.
With exceptional additional services :
Hot-line access in privilege level, technical portal Extranet 24/24, free replacement of defective keys, remote diagnosis of malfunctions, commitment to work within 48 working hours in case of persistent malfunction for system in production,...
Products lifecycle fact sheet
Each ORDINAL Software product has a life cycle. The life cycle begins when a product is placed on the market and stops when its support is no longer assured. Key lifecycle dates let you know when to upgrade or other changes to your software.
Support policy
Our COOX support policy promotes the regular release of releases, a key element of the Chameleon product strategy, while regularly offering LTS - Long Term Support - releases offering extended support duration.
The last two commercial versions (a commercial version corresponds to a change of at least one of the first three digits of the version) are systematically supported, to which may be added the LTS versions still in progress.
IMPORTANT: any new license is always delivered in the latest current version. The issuance of licenses for earlier versions is only possible for versions still under support and subject to an active ORDGOLD maintenance contract.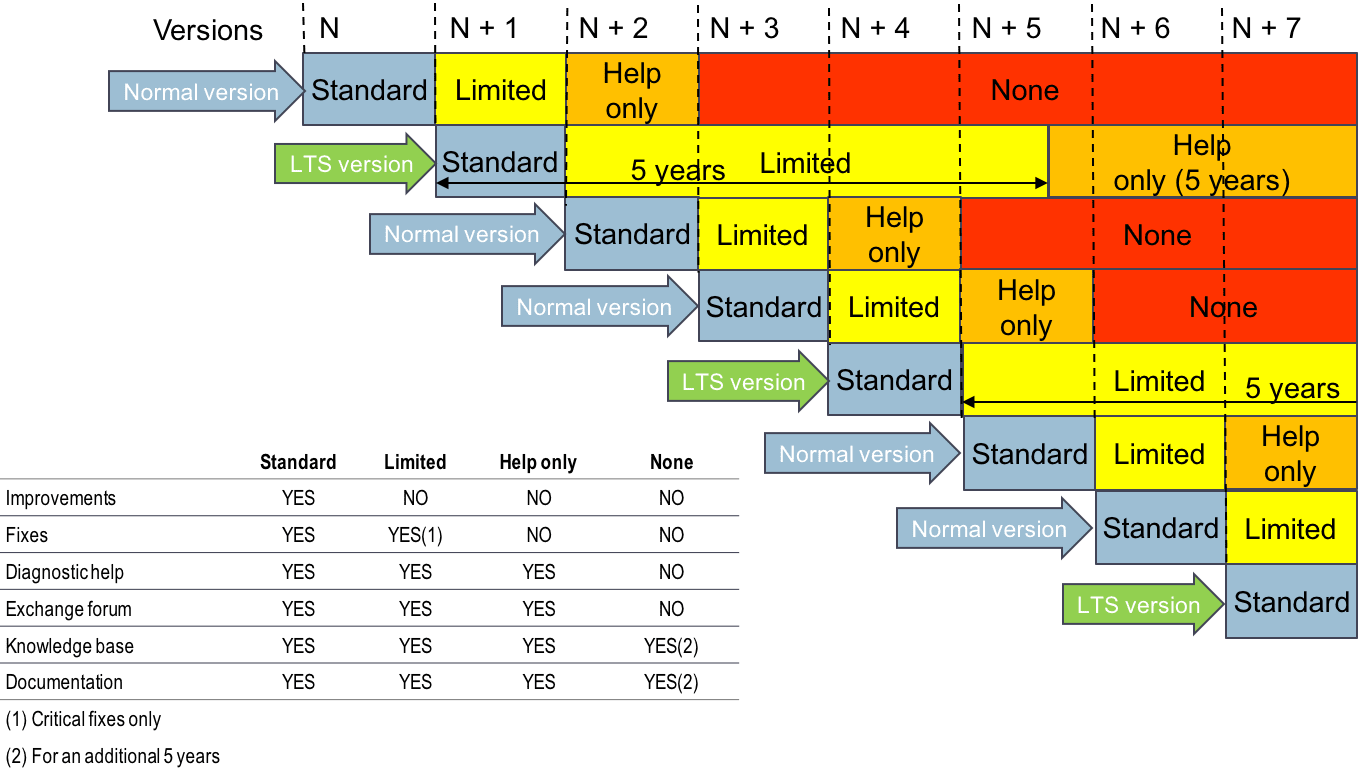 The new rules of support's mode are as follows (see figure and explanatory table above) :
The LTS versions have a standard support (5 years) and 5 additional years of support without correction product(Help Only)
Normal standard versions have standard support until the release of the next version (N+1)
Normal versions pass in Limited support at the time of the versions' release (N+1)
Normal versions pass in Help Only support at the time of the version's release (N+2)
Normal versions pass to None support at the time of the version's release (N+3)
Release dates and support time for COOX versions
NB: the GSI product versions (predecessor of the COOX range) are no longer supported. Applications can be converted. Thank you for contacting us.
Release dates and support time for INDUSCREEN versions
NB: Product versions INDUSCREEN lower than 6.40.00 are no longer supported. Applications can be converted. Thank you for contacting us.
Versions compatibility of software products
Find here all the information about versions compatibility of our solutions, depending on your modules, your operating systems, databases, communication protocols, used office tools...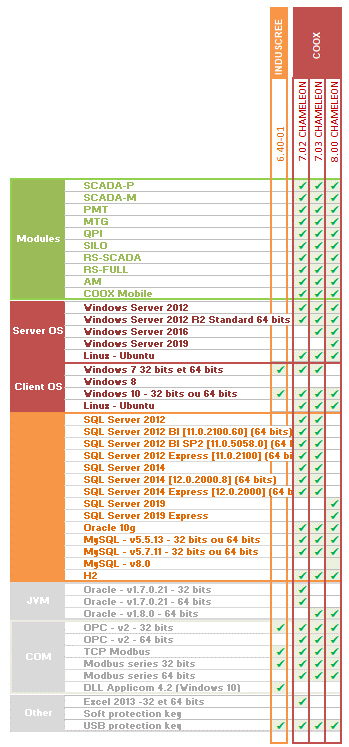 This table is updated when the latest downloadable version is released.